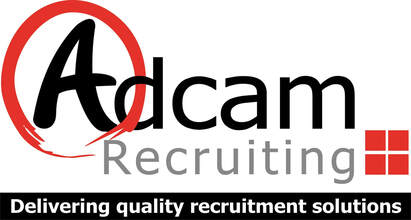 Why Use Adcam? 

Adcam Recruiting is owned by Kiri and Hannah who are committed to bringing you exceptional service which is both friendly and professional. We are enthusiastic and efficient and are experts at getting the right "fit" for your business. We have a passion for helping SME's as well as large corporate companies.

Adcam Recruiting can help you find and secure the right staff for your business. We remove the headache from an often time consuming, costly and frustrating process.

We do this by offering a tailored service, unique to your business needs and requirements to help efficiently and effectively plug the gaps in your organisation, from permanent placements to temporary staff – we can help you maximise your potential and productivity.

Finding the best people for your organisation is crucial for successful recruitment and having the right person in the job will help you retain staff for longer, without having to go back to the drawing board. Adcam Recruiting offer a personal and dedicated recruitment service tailored to suit your individual business needs.

Our specialised computer based testing systems remove the guess work when it comes to hiring staff and will help ensure you get the right skill level and personality for your company environment. Let Adcam Recruiting take the time to find the right team for you. We work closely with organisations and job seekers, developing a true understanding of company culture, staffing needs and candidate skills and abilities.

We can also complete pre-employment screening, including NZ criminal record checks (with a complete report) and drug and alcohol testing.



Permanent Recruitment

Permanent employees are a company's most valuable asset.

Covering all positions from front-of-house, reception roles, through administration, accounting, engineering, retail, hospitality and sales in all sectors of commerce and industry, our permanent recruitment service is based on the fundamental principle of matching the right people, with the right vacancy, at the right time.

Because of our reputation for achieving successful, well-matched placements, many skilled individuals confidentially approach Adcam Recruiting to help them to find the right permanent position.

Increasingly, Clients are asking us to work their vacancies on a sole or preferred agency basis.

To make the matching process as effective as possible, Adcam consultants make a point of thoroughly understanding your requirements. We also ensure that potential employees have the required skills and aptitude to contribute to your business, so that your investment in human resources will yield a significant return.

Cost Effective – Have you ever added up the true cost of undertaking your own recruitment, not just the obvious upfront costs? It takes between 20-26 hours to recruit a new team member! That's a lot of time that you are away from your own job, doing something that can be managed by someone else. So why not free up your time and reduce the hassle by letting us recruit for you.

We act as your Advocate – We effectively present your job opportunity and company to candidates who may not have otherwise considered working for you.

Larger Pool of Quality Candidates – We have an established and well-maintained candidate database, which constitutes a search resource that otherwise, would not be available to you.

Our Specialised Knowledge – Recruitment is our business and our expertise, we spend 100% of our time recruiting! So why not take advantage of this expertise to help you find your perfect employee match.

Efficient & Effective Service – Recruitment is our passion. We pride ourselves on doing it well and we do if efficiently.

Low Risk – Replacement Guarantee – We are so confident in our ability to get the right candidate, we offer a 100% refund or replacement guarantee on the placement fee. Giving you peace of mind.

No time-wasters – We are great judges of integrity and character, and save you the hassle of sorting the quality candidates from the time wasters. When we send our short-listed candidate for you to interview, they will be briefed, prepared and enthusiastic about the role you are offering.


Skills testing and assessment tools – We can assess candidates' skills and competencies applicable to the position, which greatly improves the chances of an effective hiring decision being made.



---
Temporary Recruitment 

A flexible workforce that can respond to your ever changing business demands.

Covering positions in a variety of roles with focus on reception, accounts, administration but including retail, hospitality, call-centre staff, sales support and finance management positions. Assignments can be from a minimum of 4 hours to several months in duration. Our temporary recruitment service offers our clients a responsive solution without compromising on quality. The services offered can include skills assessments, background checking, reference checking and ongoing workforce management.

We pride ourselves on our flexibility, providing a tailored service to suit each client and demonstrating expertise in supplying staff during peak times.

Are you experiencing a surge in business, or have a big project on the go, and need an extra set of hands, but are reluctant to hire someone permanently?

Our temporary staff are the perfect solution to help with a wide variety of business tasks, allowing your business the flexibility of meeting current demand without the commitment and cost of a permanent placement.

We can provide your business with temporary staff who are reliable, have the appropriate skills for the job and importantly who 'fit' with your existing staff. All of our temporary employees have been through a stringent interview, reference checks and approval process before being recommended to clients.

Improve productivity – Temp workers can assist with work overload, preventing employee burn out of full-time staff, improving staff morale and productivity.

Decrease costs and paperwork – Temp staff are employed by us, so we take care of all the employment costs (e.g. paying wages, ACC, PAYE, sick and holiday pay entitlements, Kiwisaver contributions). You simply get a GST invoice weekly at the agreed hourly rate for the temp staff that have been working with you – it's that simple.

Increase flexibility – Temp employees can be brought in to cover the vacation of an employee, maternity or sick leave.


We will tailor a recruitment and marketing package that suits your business needs and requirements and ask for the opportunity to provide you with a quote to do this.


We look forward to working with you.
​


---
Contract Consultants 

Adcam have top quality professional contract consultants confidentially registered.

These people offer experience from a wide variety of vocational areas and often rely upon Adcam Recruiting to advise them of their next contract opportunity.


---
Business Support 

Employment agreements and recruitment documentation: This is a service we offer either as part of our recruitment process or as a stand-alone service to clients.

Psychometric & abilities testing: Even if you do your own in house recruitment we are able to offer comprehensive assessments of candidates to support the recruitment decision making process.
---
Contact us now to discuss how best we can help you.
---
Adcam Recruiting, Ltd. ~ 21 Quay St., PO Box 134, Whakatane 3158 ~ 07 308 5030 ~ admin@adcam.co.nz